Renshi Emily instructed her last class
5 August 2022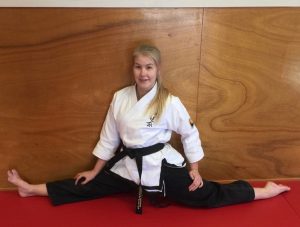 Renshi Emily instructed her last class at Te Totara last night (4th August 2022). Renshi started Te Totara from scratch in 2012. Initially the classes were on a Tuesday only, eventually extending to a Thursday and Renshi took both classes for a number of years. Renshi juggled training, high school, four successful years of university and the last four years working full time plus overtime and rarely has she missed a class. The student base that developed became the core of Taekidokai in New Zealand and this is all due to the commitment, dedication and consistency that Renshi Emily gave this dojo. It was her baby and she owned it!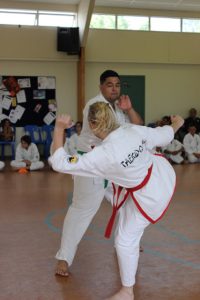 Renshi has also gifted us the future. The following students were assistants with Renshi Emily and carry on her legacy of commitment and dedication to their own students. Renshi Andrew (now gone but still valued), started the Te Ao Marama, Flagstaff North dojo, Renshi Josh has seamlessly fitted in to teaching the very successful Te Totara Tuesday class and still supports the Te Totara Thursday class with Renshi Emily and Renshi Emma is doing great work in continuing to build the Te Ao Marama (Flagstaff North) dojo.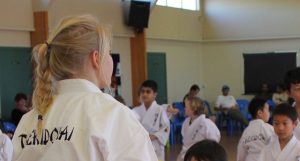 Renshi Sandra will take over the instructing at Te Totara on Thursday August the 11th 2022. There is no following Renshi Emily, no one will be like her. But we do not need that. Renshi Sandra will bring her own flavor to the class, her own experience, knowledge, passion and sense of fun and will do a brilliant job of nurturing the students gifted to her and those that follow her from Te Ao Marama. The Thursday class at Te Ao Marama is now closed.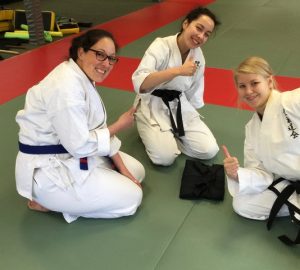 On a personal note, Emily and I started our TKMA journey simply as mother and daughter. We went to every class that was open, Rototuna, Ruakura, Cambridge, even Dinsdale to Hillcrest on the same night to train. It was mad! When I started instructing, Emily was my assistant and we learned how to run a class together. When I became Chief Instructor, Emily was right there at my side and so she has been ever since. I will miss that! At the same time I totally support her decision to devote herself to new passions, and experience all her world has to offer. She has given us so much and I wish her well and hope that she comes to train with us occasionally.
Get started with your first Taekidokai class today!
Contact Us