Renshi Emily instructed her last class
Renshi Emily instructed her last class
5 August 2022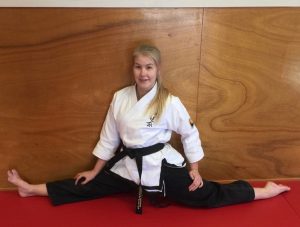 Renshi Emily instructed her last class at Te Totara last night (4th August 2022). Renshi started Te Totara from scratch in 2012. Initially the classes were on a Tuesday only, eventually extending to a Thursday and Renshi took both classes for a number of years. Renshi juggled training, high school, four successful years of university and the last four years working full time plus overtime and rarely has she missed a class. The student base that developed became the core of Taekidokai in New Zealand and this is all due to the commitment, dedication and consistency that Renshi Emily gave this dojo. It was her baby and she owned it!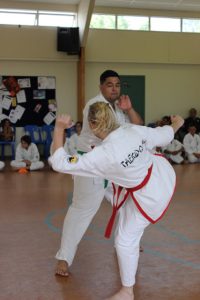 Renshi has also gifted us the future. The following students were assistants with Renshi Emily and carry on her legacy of commitment and dedication to their own students. Renshi Andrew (now gone but still valued), started the Te Ao Marama, Flagstaff North dojo, Renshi Josh has seamlessly fitted in to teaching the very successful Te Totara Tuesday class and still supports the Te Totara Thursday class with Renshi Emily and Renshi Emma is doing great work in continuing to build the Te Ao Marama (Flagstaff North) dojo.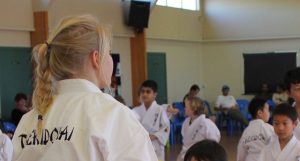 Renshi Sandra will take over the instructing at Te Totara on Thursday August the 11th 2022. There is no following Renshi Emily, no one will be like her. But we do not need that. Renshi Sandra will bring her own flavor to the class, her own experience, knowledge, passion and sense of fun and will do a brilliant job of nurturing the students gifted to her and those that follow her from Te Ao Marama. The Thursday class at Te Ao Marama is now closed.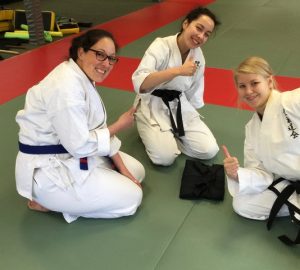 On a personal note, Emily and I started our TKMA journey simply as mother and daughter. We went to every class that was open, Rototuna, Ruakura, Cambridge, even Dinsdale to Hillcrest on the same night to train. It was mad! When I started instructing, Emily was my assistant and we learned how to run a class together. When I became Chief Instructor, Emily was right there at my side and so she has been ever since. I will miss that! At the same time I totally support her decision to devote herself to new passions, and experience all her world has to offer. She has given us so much and I wish her well and hope that she comes to train with us occasionally.
Grading Etiquette – prior to completing your grading application.
31 May 2022
GRADING ETIQUETTE
If you are hoping to grade please let your instructor know. Do not tell them that you are grading – that is considered rude. Rather just let them know that if you were able you would like to grade.
LESSON REQUIREMENT
Your instructor will be interested to know that you have been training consistently and that you have completed (or will complete) at least the minimum number of lessons required for your grade. You should always aim to do a lot more lessons than required.
CURRICULUM COMPETENCE
Your instructor will only agree to your grading if you know your curriculum well enough to perform it under the stress and tension of a grading event. You should know the name of your techniques and be able to perform them confidently.
IMPROVEMENT REQUIRED
The purpose of asking for an early opinion from your instructor is that where improvement is necessary, you can work hard to achieve the required level by the grading date. Please do not be upset if the instructor asks you to wait until a later grading round. The last thing any instructor or student wants to do is to go to a grading unprepared. It is embarrassing and potentially will result in failure.
HIGHER GRADES
As you climb in ranking, the requirements, of course, become harder and more testing! Students that have only completed the minimum in the early grades tend to start to find it very difficult as they progress through. Like everything in life, the harder you work, the easier it is, the luckier you become. Luck is the companion of hard working people!
Fees increase June 2022
31 May 2022
Due to increased hall hire costs and the hike in petrol costs which affects all other costs we need to increase our training fees. This is our first increase in fees since June 2019. This increase comes into effect on the 1st of June 2022.
The attached schedule contains more detail on the classes available, grading dates and the fees. Below is a brief look at the updated fees.
Monthly Training Fee – Payment in advance due on the 1st of the month, covers all training for a calendar month.
Junior $70
Senior $85
Weekly Training fee – replaces the nightly fee. Payment due on Monday in advance. This fee covers all of your training from Monday to Sunday.
Junior $16
Senior $20
Family Training Fee – for families with three or more members training
Weekly $45
Monthly $185
It would be much appreciated if you could action a direct debit to ensure your fees arrive on the correct day. We are unable to offer refunds so please ensure that you pick the most effective option for your situation.
All other fees remain the same.
Recent Comments
No comments to show.
Get started with your first Taekidokai class today!
Contact Us